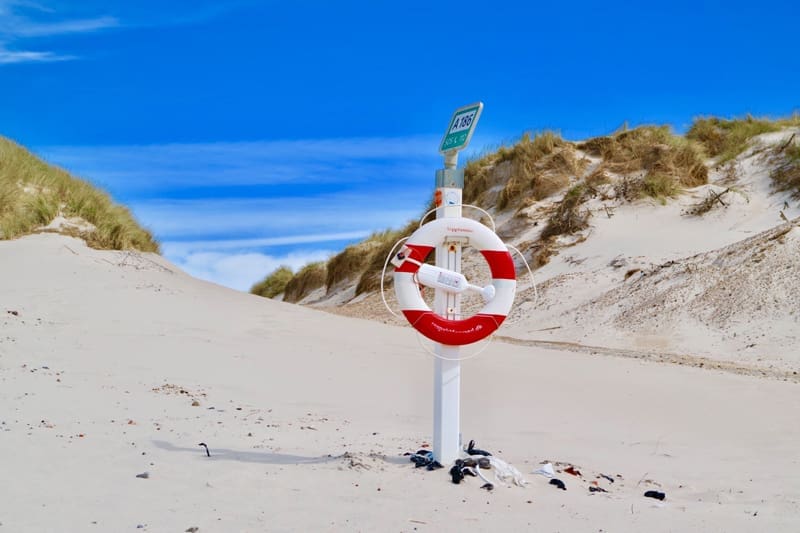 Now that the summer holidays are approaching, Denmark is a good place to be. We have been to West Jutland. West Jutland is Denmark's West Coast. It is a beautiful region to spend holidays with children. Jutland is the peninsula above Germany. The northern part of Jutland belongs to Denmark and the southern part to Germany. West Jutland is located on the Wadden Sea and is a beautiful area with nice child-friendly highlights.
What is there to do in West Jutland?
And what did we do when we were on holiday in West Jutland? In this article I will show you the best highlights and the trips we have done. And I'll give you some tips for various campsites and holiday homes in West Jutland.
Legoland Billund
First of all, when you go to Denmark with kids, you go to Legoland Billund. It depends on where you stay in West Jutland, but on average it is an hour's drive to Legoland. We went to Legoland for one day, that was enough for us. But you can certainly go to Legoland for several days, there is enough to do. If you want to go to Legoland for several days, it is best to stay at Legoland resort. A tip is to do this before or after your holiday in West Jutland to do.
Jyllands Akvariet
In other words, this is the Jutlands Aquarium. Because West Jutland is located on the North Sea, a visit to an aquarium cannot be avoided during your holiday. Jyllands Akvariet can be found in Thyboro, half an hour above Hvide Sande. Here you can even pet the fish! It's not a large aquarium, but a nice activity, especially when you go on a seal safari afterwards.
On a seal safari
Because seal safaris are really something you have to do when you're in West Jutland. The seals of the North Sea are so cute. Yet the Danes are not always happy with them, because if there are too many seals, it becomes a plague.
There are different ways to go on a seal safari. For example, you can take a boat to look for seals. But you can also take a tractor on the beach to go to the seals. Just pay attention to the weather, when you go on a seal safari in West Jutland with your family. Because when the wind comes from the sea, you will have a wet suit on a small boat in no time.
Bork Vikingehavn Hemmet
Denmark has a very rich history of which Vikings are a big part. They were called the plague from the north. Because Vikings were best known for looting, murder and robbery. But the Vikings were also true explorers and traders. In the reconstructed Bork Vikingehavn Hemmet you will experience this history as if you were there yourself. Children love it.
The climbing forest: WOW Park
Denmark is known for its child-friendly activities. The climbing forest WOW Park is one of them. There is only one thing that WOW Park wants: 'let the children play and discover'. Well, I completely agree with that, which is why WOW Park in West Jutland is highly recommended. A great activity for the children during a holiday in Denmark!
When you've done all these activities, your holiday week is already quite full. But in West Jutland there are also some highlights that should not be missed.
The beaches of West Jutland
West Jutland is situated by the sea, which is why West Jutland also has beautiful beaches. These beaches are wide, spacious, and above all quiet. Here you and your children can play to the fullest without bothering anyone. The beach of Nymindegab is ideal for looking for shells, stones and (sea)animals. If you go down a little further, to Henne Beach, the beach is even quieter and you can take your kite with you. A little more excitement can be found on the white beach of Hvide Sande.
Lyngvig Lighthouse
In Hvide Sande you will find the lighthouse 'Lyngvig Lighthouse'. Not only the lighthouse is an attraction and very photogenic. But after a steep climb up, the view from the lighthouse over the west coast is also a highlight. You just shouldn't suffer from vertigo.
Churches in West Jutland
The churches can be found not only in the centre of the Danish towns, but also in the landscapes of West Jutland. The typical church towers require to be photographed. Here are a few worth seeing recommendations:
Venø Church. The address: Tangles 1, Struer 7600
Lemvig Kirke. The address: Torvet 15, Lemvig 7620
Grindsted Kirke. The address: Kirkegade 22, Grindsted, Billund 7200
Haurvig Kirke. The address: Soender Klitvej 92, Hvide Sande 6960
Holiday homes in Denmark, region West Jutland
In Jutland there are many child-friendly holiday parks. If you prefer to stay in a private house, then Denmark is the place to be. There is a wide range of holiday homes on offer. From holiday homes with swimming pool to holiday homes on the coast.
We stayed in a holiday park of Landal. Landal has a total of five holiday parks in Jutland, Denmark. Landal Seawest is located in West Jutland. Landal Rønbjerg and Landal Grønhøj Strand are located in the north of Jutland. In central and eastern Jutland you will find the parks Landal Ebeltoft and Landal Søhøjlandet.
We can really recommend Denmark's Jutland as a great holiday destination for families with little children. But also with older children, because there are plenty of activities and highlights that will make every family member happy. And with the above tips, a holiday in Jutland Denmark can't be boring. Not even if it rains all week.