Zeg ik kerstmarkt, dan zeg jij kraampjes vol kerstversiering, gluhwein en koortjes die kerstliedjes zingen. Het bezoeken van een kerstmarkt brengt je in de ultieme kerststemming. Maar helaas zal je ook dit jaar de kerstmarkt in het buitenland moeten bezoeken.
Kerstmarkt in Duitsland – Düsseldorf
Met acht kerstmarkten dompelt Düsseldorf bezoeker zich weer onder in een sfeervolle kerstbeleving
Na een jaar te hebben overgeslagen in verband met Covid heeft Düsseldorf zijn kerstmarkten weer heropent. Het aantal kerstmarkten is uitgebreid naar acht in totaal, dit om het publiek beter te spreiden. Op iedere kerstmarkt staan in tegenstelling tot vorige edities iets minder hutten en kraampjes, en ook de onderlinge afstand tussen de hutten wordt vergroot. Sprookjesachtige decors, honderden kraampjes, feeërieke verlichting, een schaatsbaan, het reuzenrad op de Burgplatz en volop glühwein toveren de binnenstad om tot een kerst eldorado. De acht kerstmarkten hebben ieder hun eigen sfeer en karakter en zijn alle op loopafstand van elkaar te bereiken: de Altstad Markt in de Marktstrasse en Flinger Strasse, de Handwerker Markt voor het stadhuis, de Schadow Markt in de Schadowstrasse, de Kö-Bogen-Markt verhuist naar de Gustaf-Gründgens-Platz en de met sterren verlichte Sternchen Markt op de binnenplaats van de Wilhelm Marx Huis. De Engelchen Markt, herkenbaar aan de vele goudkleurige afbeeldingen van engelen boven de kraampjes is gesitueerd op de Heinrich-Heine-Platz, de Märchen Markt – met zo'n 15.000 Led lampen terecht Sprookjesmarkt genoemd – bevindt zich aan de Schadowplatz en voor het eerst verschijnt er een kerstmarkt op de beroemde winkelstraat Köningsallee: de Kö-Lichter-Markt. Nadere info plus een kaart waar de locaties van de markten zijn aangegeven op: https://www.duesseldorf-tourismus.de/en/experience/events/christmas-market
Kerstmarkt in Oostenrijk – Tirol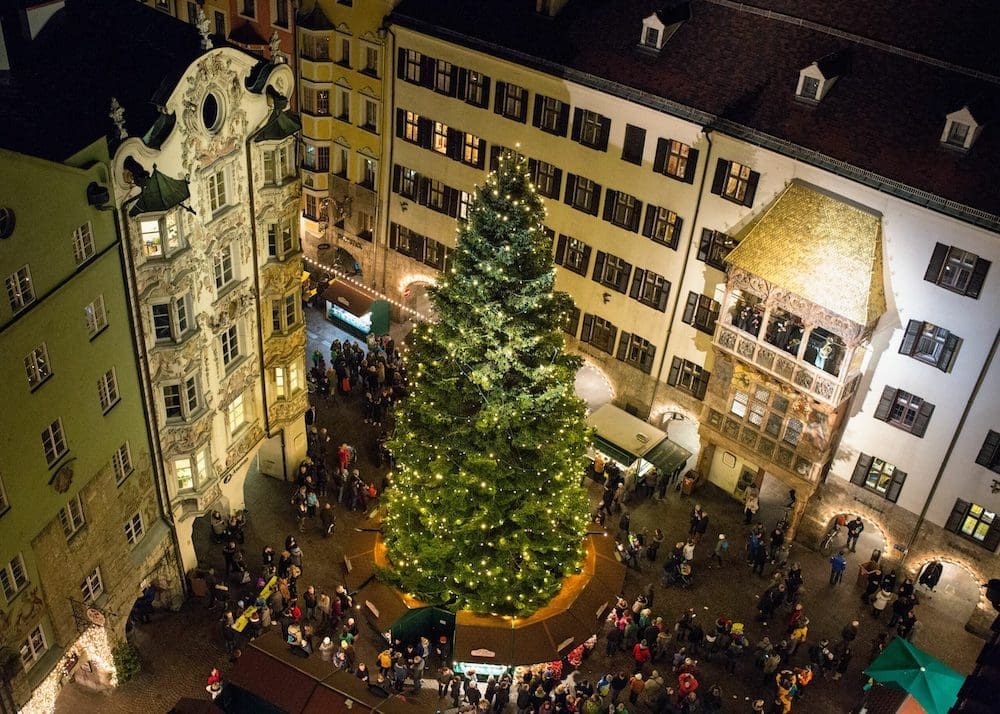 Deze negen kerstmarkten zijn verdeeld over heel Tirol.
Al voordat op de adventskrans de eerste kaars brandt, is de sfeer bij de Achensee al heel bijzonder. Tijdens de "AchenSeeWeihnacht" varen bezoekers op een stoomschip van de Achenseevloot over het stille meer. Aan boord is een glinsterende en drijvende kerstmarkt en bij de aanlegplaats in Pertisau vind je een wonderlijke kerstwereld met marktstalletjes, kinderboerderij, kinderprogramma – en natuurlijk heerlijk warme punch en glühwein.
De adventsmarkt in het oude centrum van Hall in Tirol behoort tot de mooiste markten van het land. Op het stadsplein waar de, met talloze lampjes versierde kerstboom domineert, betovert de markt zijn bezoekers niet alleen met kleine marktstalletjes, maar ook met een enorme adventskalender die alle getallen in bonte kleuren op de gevels van de huizen projecteert.
De Bergweihnacht Innsbruck bestaat uit zeven kerstmarkten in de aanloop naar de kerst. De grootste markt vind je in het oude centrum en telt meer dan 70 stalletjes en een kerstboom voor het "Goldende Dachl". De markt op het marktplein is bekend om zijn kinderprogramma, de 'Panorama Christkindlmarkt' op de Hungerburg. Geheime tip voor een rustige markt is die in het stadsdeel St. Nikolaus. Een gezellige sfeer beleef je op de markt 'Wiltener Weihnachtszauber' in de wijk Wilten.
Kitzbühel, de levendige stad die bekend is van de legendarische Hahnenkamm-wedstrijden, verandert in de periode voor kerst in een "stade (stille) stad". Alle steegjes glinsteren en stralen. Marktkraampjes in kerstsferen nodigen uit om rond te slenteren, rond te kijken en te proeven van Tiroolse lekkernijen.
Andere sfeervolle trekpleisters zijn de kerstmarkten in Kufstein. In het stadspark van Kufstein staan Tiroolse specialiteiten en authentieke kunstnijverheid centraal. Ook de oude vesting van Kufstein wordt voor de adventtijd omgetoverd: tijdens de "Weihnachtszauber" kunnen bezoekers over het historische terrein wandelen en kerstverrassingen bewonderen.
De Lienzer Advent is één van de meest traditionele markten in Tirol. Met kerstlampjes en traditionele lekkernijen voldoet hij helemaal aan het motto "nog een keer kind zijn". Een echte blikvanger is ook de Liebburg, het raadhuis van de stad, die in de periode voor kerst in een adventskalender verandert.
In Rattenberg, de kleinste stad van Oostenrijk, wordt de tijd vlak voor kerstmis heel anders gevierd. Hier zijn geen stalletjes en kunstlicht te vinden. In plaats daarvan staan "bezinning, lieve mensen ontmoeten en het zich bezinnen op de essentie" centraal. Mensen komen in het café bij elkaar en worden verwend met culinaire lekkernijen. Zoals de bijzondere smaakbeleving van de Rattenberger Adventswein met een heerlijke vlierbessensmaak. Ook kaarsen voor de ramen, fakkels en vuurplaatsen brengen in Rattenberg "licht in de duisternis".
Sfeervol – en vooral sneeuwzeker vanwege de hoge ligging op meer dan 1.200 meter – begint de tijd voor kerst in Seefeld. De kerstmarkt met talrijke kleine houten hutjes heet bezoekers welkom met de geur van glühwein, en biedt regionale sierkunst en betoverende cadeau-ideeën. 's Avonds zijn de blazers van de 'Seefelder Weisenbläser' te horen net als de traditionele kerstliederen van lokale zangkoren en muzikanten.
Kerstgeuren en wierook begeleiden bezoekers tijdens een sfeervolle adventswandeling over de kerstmarkt van St. Johann in Tirol. Op de markt kunnen gasten genieten van huisgemaakte delicatessen en liefdevol vervaardigde kerstcadeaus en kerstdecoraties. Elke vrijdag, zaterdag en zondag kunnen kinderen in de adventswerkplaats knutselen en bakken.
Kerstmarkt in Frankrijk – Elzas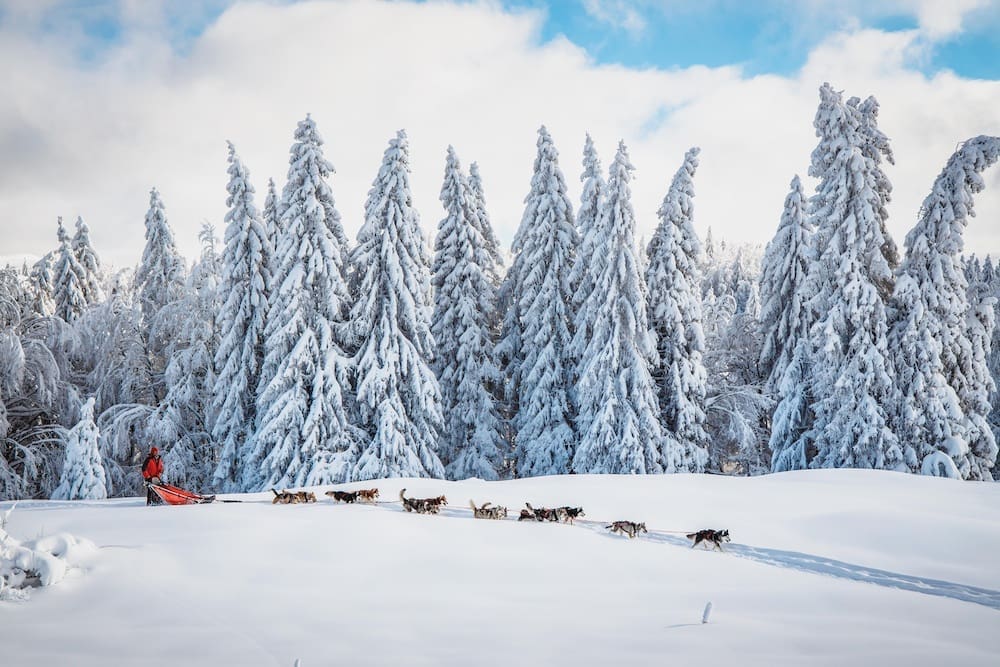 Een Franse kerst
Kerst is altijd een bijzondere periode van twinkelende lichtjes, knusse avondjes, geurende glühwein (vin chaud) en traditionele liederen. Een Franse kerst heeft nog iets extra's: een decor van besneeuwde bergtoppen of sfeervolle kerstmarkten in de Elzas waar je specialiteiten als 'bredele' en 'pain d'épice' kunt proeven, waar je je kunt vergapen aan feeërieke decoratie en waar je handgemaakte kerststalfiguren genaamd 'santons' kunt kopen. In Frankrijk zijn kerst en ambachtslieden onlosmakelijk met elkaar verbonden. Ze weten de mooiste kerstballen te blazen, kransen te vlechten en houtsnijwerken te vervaardigen. Ja, een kerst in Frankrijk zul je niet snel vergeten. Wil je dit jaar je naasten verwennen met originele cadeautjes? Dan vind je hier verschillende webshops waar je allerlei leuke spullen uit alle streken van Frankrijk kunt vinden, van ethisch verantwoorde kleding tot milieuvriendelijk houten speelgoed. Shoppen maar!
Kerstmarkt in Italië – Zuid Tirol
Liever niet skiën of snowboarden en op zoek naar andere winterse activiteiten? Zuid-Tirol biedt ruime mogelijkheden voor mooie wandelingen met sneeuwschoenen of tijdens het langlaufen. Het langlauf netwerk in Zuid-Tirol van ongeveer 1800 km nodigt vakantiegangers uit om de loipes te betreden. Een groot deel van deze loipes behoort tot de Dolomiti Nordic Ski vereniging, Europa's grootste langlauf circuit. Wanneer je op zoek bent naar activiteiten met meer adrenaline zoals rodelen of ijsklimmen, kom je ook aan je trekken want je kan tijdens je vakantie ook een cursus ijsklimmen op een bevroren waterval boeken. Wil je na een sportieve dag iets anders ondernemen is een bezoek aan de Kerstmarkten een leuke optie. Van 26 november 2021 tot 6 januari 2022 zijn de originele Zuid-Tiroolse kerstmarkten in Bozen/Bolzano, Meran/Merano, Brixen/Bressanone, Bruneck/Brunico en Sterzing/Vipiteno weer geopend op de mooie versierde pleinen.
Kerstmarkt in Kroatië – Zagreb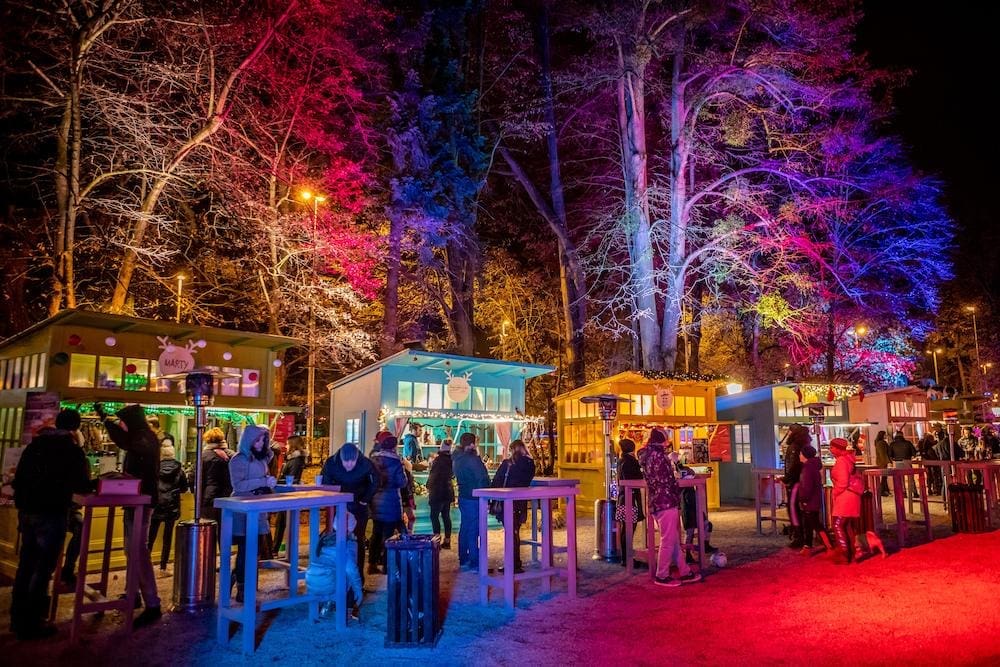 Drie jaar op rij werd 'Advent Zagreb' al bekroond tot Beste Kerstmarkt van Europa. En ook dit jaar wordt de hoofdstad van Kroatië omgetoverd tot winterwonderland. Duizenden lichtjes springen aan terwijl de sneeuwvlokken dansen op de melodie van Mariah Carey en de lokale, Kroatische kerstliedjes. De hele stad vult zich met gevarieerde kerstactiviteiten die gebundeld werden in een handige kaart die je van de ene magische plek naar de andere brengt. Zo beleef je tijdens 'Advent Zagreb' meer dan 100 concerten die ervoor zorgen dat iedere bezoeker zijn deuntje vindt, van opera's tot moderne popsongs. Daarnaast stelt het culturele programma ook niet teleur want tal van expo's krijgen een winterjas aan. Zo huisvest het Broken Relationships Museum tijdens de advent een tentoonstelling gewijd aan de herinneringen aan speelgoed. In het Chocolademuseum proef je van een zoete tentoonstelling die bewijst dat chocolade en Kerstmis hand in hand gaan. Ook voor kinderen is Kerstmis in Zagreb onvergetelijk. Zij vieren Kerstmis al schaatsend op de ijsbaan, genietend in een van de reuzetreinen of lachend met een van de toneelstukken. Hebben we je warm gemaakt om de feestdagen te vieren in Kroatië? Check dan zeker de tal van speciale acties die hotels in Zagreb aanbieden.