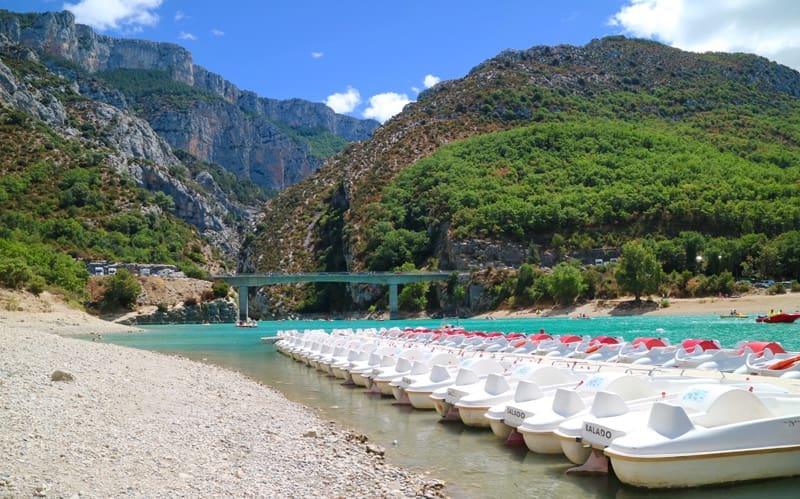 In the south of France you will find the beautiful, more than 180,000 hectares of regional natural park Verdon. By the many pedal boats and kayaks that you'll see in the river, it's not a secret place. But it can be high on your list of destinations. Because it is beautiful here. Even my children agreed and there is often a 'wow' rolling out of their mouths. And I can totally understand that, because 'wow', Gorges du Verdon is so beautiful!
The region of Gorges du Verdon
The Gorges du Verdon is best known for its Grand Canyon du Verdon. This is a gigantic gorge that is even one of the largest gorges in Europe. Through the 25 kilometer long river Verdon you can see rock walls up to 700 meters high. These have been worn out over the centuries. This amazing natural phenomenon ends in the reservoir 'Lac de Sainte-Croix'. In the Grand Canyon there are many tourists, but the nature reserve has much more beauty to offer and is worth a longer stay.
Many come from the Côte d'Azur to visit the Grand Canyon du Verdon for a day. During our holiday we stayed at a campsite in the Verdon nature reserve… The campsite was our base and from the campsite we explored what the area has to offer. And I can tell you now, we are not finished yet and therefore there is a good chance that we will return again to Gorges du Verdon.
There are many campsites in the area of Gorges du Verdon. Are you looking for a large campsite with many swimming pools and a complete entertainment programme? If so, you'd better continue your search on the Côte d'Azur and take the Verdon as an excursion. In the Gorges du Verdon area you'll find mainly small nature campsites. Some directly on the Verdon, others more in the forest with a small swimming pool.
What to do in the Gorges du Verdon
Holidays are for relaxing. That's right! Yet last summer we did a lot of activities in the Gorges du Verdon, simply because the area invites you to do so. For that reason alone it was very nice that we stayed a bit longer in this area, because no matter how much I like to go out every day, the children sometimes want to stay on the campsite for a day or two. You know, swimming a bit, making friends and just playing.
It may be quite touristy, but skipping a water activity in the Grand Canyon of the Verdon is like cursing in the church. So well we rented a pedal boat at the gate of the Grand Canyon. However, we didn't choose the right day to do this, as the wind was quite strong, with the result that entering the Canyon was a piece of cake, but leaving the Canyon caused us unnecessarily much muscle pain.
In addition to pedal boats, you can also rent a kayak or an SUP-board. If you'd rather be lazy than tired, I advise you to rent an electric boat.
There are several places where you can rent electric boats, SUP boards and canoes. Motorboats are forbidden in the Verdon.
Renting a pedal boat in the Gorges du Verdon will cost you +- €15 per hour. Renting a kayak also costs about €15,00 per hour. For both, it depends on how many persons pedal boat or kayak you choose.
Renting a SUP will cost you +- €10,00 per hour.
Renting an electric boat will quickly cost you around €45.00 per hour.
Rafting and Canyoning in the Verdon
One of the enjoyable things about the ageing of my children, is that the activities are also becoming more enjoyable. The swimming bands are exchanged for a raft boat and the playground is exchanged for a climbing course through the canyon.
Our goal was rafting. We tried to arrange this via 'Les Guides'. You could call them for an appointment, but given the size of our group, we thought it would be better to stop by and arrange a tour in person. The office of Les Guides is located in the town of Les Salles, not too far from the Grand Canyon du Verdon. Upon arrival we had our first disappointment: rafting was not possible due to the drought. Flexible as we are we switched from rafting to canyoning.
And what is canyoning? We also wondered… In the end it turned out to be a combination of climbing, abseiling, ziplining, jumping from a rock and swimming in ice cold water. All this in a 3mm wetsuit. After the zipline and the 10 meter high climbing course in Sweden, I thought that my daughter would be experienced enough for the family tour. However, this turned out to be quite a challenge for her and some fears had to be overcome. Tough as she is, she completed the two and a half hour course in the canyon of the Verdon. But when asked: "next year again?", a convincing "no, really not!" came out. Too bad for me, because with this 'canyoning' I could have entertained myself all day long. Next year child 2 but bring along then …
Children can participate in the activities from the age of 8 years and about 30 kg. Provided they have good swimming skills and a little guts. The cost is about €40.00 for half a day (2.5 hours).
Rafting is logically only possible when the water is high enough. The costs for a 1.5 hour raft trip are €40.00.
Office address:
Les Guides
2 rue Margaridon
83630 Les Salles sur Verdon
But you can also call to participate in one of the activities: +33(0)494842255
The most beautiful car route along the Gorges du Verdon
Gorges du Verdon offers a lot of water activities. But it also has a beautiful car route.
And so we get in the car for one of the most beautiful car routes in the world. This route even deserves a place in National Geographic's dream ride book. In general we don't do the kids any fun with a sightseeing trip by car, but this route is quite spectacular. Especially when we pass a bungyjump point. "Are these people seriously going to jump off the bridge?"
For this route you need to have a strong stomach, because of the many hairpin bends you can see some green. Also spray enough deodorant, because the deep rock walls can cause splashing armpits.
Lakes of the Verdon
Lac de Sainte Croix
Don't only focus at the Grand Canyon of the Verdon, the Verdon has a lot more to offer. Including some beautiful lakes. The largest lake of the Verdon is the reservoir of Sainte-Croix, or 'Lac de Sainte Croix'. Lac de Sainte Croix has several beaches and picturesque, semi-touristic villages (Les Salles-sur-Verdon, Bauduen, Sainte-Croix-du-Verdon) with a nice boulevard where you can eat an ice cream. Most beaches are quite crowded, especially in the weekend when the local French people enjoy their day off at the lake. At the end of the day we visited a beach near Bauduen, where we enjoyed a bbq picnic (no coal or open fire!).
Lac d'Artignosc
A lot less touristy and therefore a lot quieter was the lake near our campsite and the picturesque village of Artignosc, 'Lac d'Artignosc'. This lake felt a bit like our own local recreational lake, but with a big rock on the other side and the lack of blue green algae. Also here you can rent a pedal boat, a kayak, an SUP-board, or an electric boat. And again there are many French people on the weekends who put together a picnic on the spot. The disadvantage (for us) is that no dogs are allowed on this stretch. Although most recreational enthusiasts don't mind, as long as you don't go swimming with the dog. One friendly French couple even advised us that if anyone would give a damn, we could just say we didn't understand them. "Je ne comprends pas…"
Lac de Quinson
A little further on, near the village of Quinson, lies the lake 'Lac de Quinson'. Again, there is the possibility to rent a pedal boat or kayak, which is certainly worth it, as this lake has a mini-canyon.
Lac d'Esparron
Lac d'Esparron is also worth a visit. You have to love the crowds and in my opinion there were a lot of young people here as well (not that I consider myself to be one of the old people now). There is a small supervised bay, given the many toddlers in this bay, I would call it the paddling pond. If you walk a little further over the rocks, you end up at a larger lake with beautiful cliffs and mysterious views.
Gorges du Verdon and its beautiful surroundings certainly belong on your must see list!
Gorges du Verdon on Google maps