When you choose a summer vacation in Sweden, you actually choose an active vacation. It's not that you're not allowed or can't relax, that's for sure, but you're challenged every day to be active. So if you're wondering what to do in Sweden, the answer is: be active. You see, there is plenty to do in Sweden, especially in the summer!
My daughter and I stayed in the Idre Fjäll area, which is a region in central Sweden. We participated in some of the coolest activities you can do with kids in Idre Fjäll. My daughter loves it and I know now that there is an adrenaline girl in her.
From now on, we will not just go on quiet summer vacations with puzzle books, but we will look for the adrenaline.
The best summer activities in Sweden
Horseback riding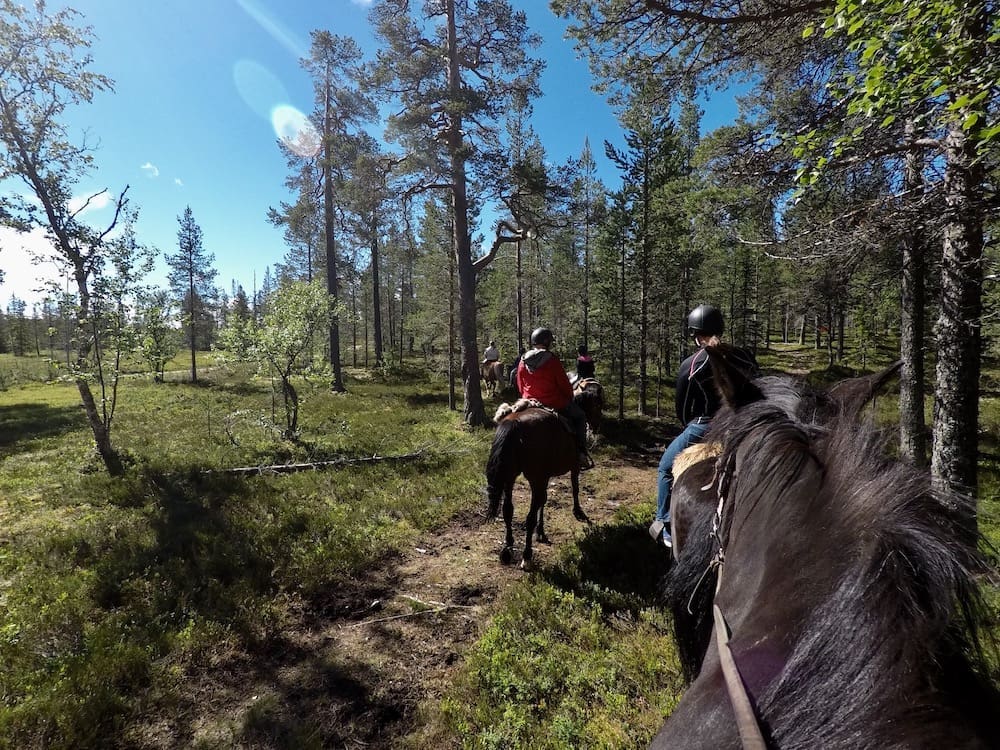 A ride on a horse may not have high adrenaline levels for everyone. But for an inexperienced mother and a terrified daughter, it is still quite exciting. Still, we embark on the adventure and bravely climb on the backs of our horses who are all ready for it.
We do the family tour, where about nine horses walk in a row behind each other. This gives a soothing feeling that the adrenaline has completely subsided. It is a fantastic ride over the mountain scenery and beautiful forest of Idre Fjäll. Experienced riders can do the gallop tour, where you gallop through the woods. What also sounds cool is the 'bath tour', where you ride to the lake Burusjön to swim together with the horse. Or the 'Städjan tour', where you climb with the horse, to get as high as possible on the mountain Städjan. Definitely one of the best summer activities in Sweden.
Rafting
Without blinking an eye, my daughter gets in the boat to go on a wild river. We are going rafting! Of course I follow her blindly, I like a little action.
The Rafting Center can be found at the beginning of the road of the Idre Fjäll area. Here the guides are ready to give you the right size wetsuit and then you follow with your own car the bus with boats to the river. Rafting can be done with children from the age of seven years. Then of course you choose the family friendly tour. We went rafting on the Österdalälven, about one and a half kilometers from Idre Fjäll.
Climbing course
When my daughter heard we were going ziplining, she immediately got excited. She liked the idea of 'flying through the air'. She even thought it would be the best activity of our summer vacation in Sweden.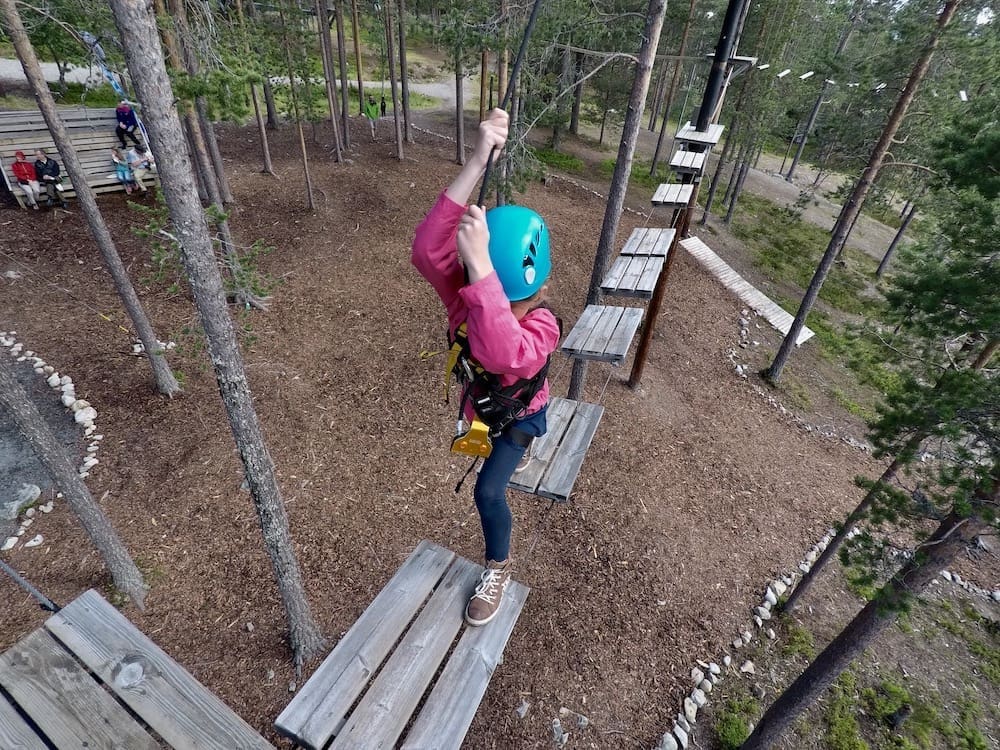 In the Idre Fjäll area you find two climbing courses. A 'medium ropes course' and a 'high ropes course'. We start at the 'medium ropes course', where the course hangs about one and a half meters above the ground. The course has almost the same challenges as the high ropes course, but a bit lower to the ground. Children from 1 meter up can do this course and I find that still quite optimistic, because mastering the security can still be quite complicated. But my daughter soon got the hang of it and the medium ropes course therefore proved to be an excellent practice round for the higher level work, which she will be able to do after taking the medium ropes course.
I have to admit that I do have some doubts. Will she really dare the high ropes course? And what about me? But she's convinced and she just manages to reach the minimum of 140 cm, there's no escape. We are just going to do the high ropes course, which is hanging there six to ten meters above the ground! Besides, we have to do the high ropes course if we want to do the zipline. And so… Here we go.
When we are on top of the first station, it is a bit higher than it looks down there. I don't give up and my daughter once again tells herself that she is not afraid of heights. At each station I wait for my daughter for a while, because of the height (and the excitement) she is not able to operate her own security, so I do that for her. As the trail progresses, the adrenaline is also coursing through our bodies more and more. But we have a goal and besides, we can't go back.
We are glad to be back with both feet on the Idre Fjäll ground. But when I look up for a moment, I can only say with pride, we did it!
Mountain biking
The most popular activity to do in summer, is a mountain bike tour through the Idre Fjäll area. The Idre Fjäll area in Sweden has several bike trails. Most of these bike trails require you to have some guts, as they invite you to take a leap.
Idre Fjäll has a map with a number of mapped mountain bike trails. For the beginners there is a practice course in the forest. This practice course appears to be necessary for us, especially my daughter who finds it very exciting on the mountain bike. She is not used to shifting gears and braking in this way. After a few hundred metres I start to get the hang of it. I take a few jumps and even dare to let go of my brakes now and then.
The trail map of Idre Fjäll shows three routes. A green route, which is the easiest and therefore also very suitable for children. The trail has obstacles of no more than 10 centimeters and is about 11.5 kilometers long. This may seem like a steep route, but most of it is fairly flat, so a heavy climb is not required.
The blue route offers a little more challenge (if needed). In this route you will make a climb to the top of the mountain. This path has obstacles about 20 centimeters high and is about 10.5 kilometers long.
For the adrenaline monsters, there is the red trail. This trail with obstacles as high as 40 centimeters and 15 kilometers long, does require some experience.
The mountain bikes can be rented in the center (next to Intersport) of Idre Fjäll. This is also the place where the three routes start.
Fun activities for children in Idre Fjäll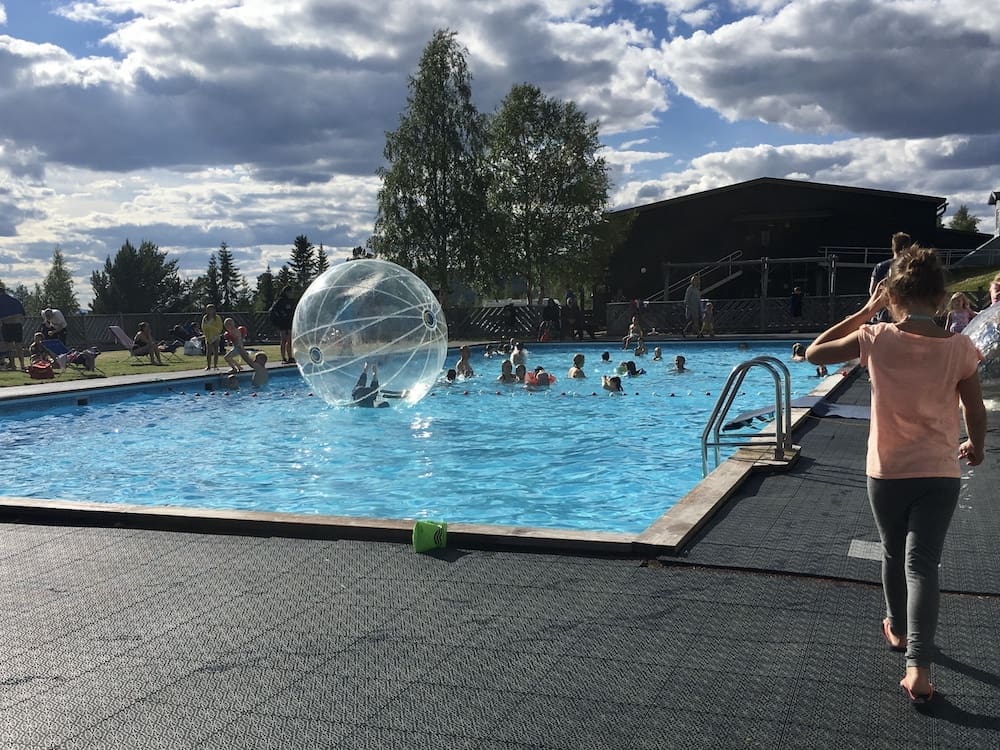 In the center of Idre Fjäll you will find the Activity Center, where children can play while mom and dad enjoy a cup of coffee. Inside the Activity Centre you will find a bowling alley, a large sports hall, a bouncy castle and an indoor swimming pool. And around the activity center there are also plenty of activities. Like the outdoor pool with water slides or the 18-hole mini golf.
The climbing wall
Children can get acquainted with the sport of climbing on a climbing wall. This climbing wall has different degrees of difficulty, so this activity is very suitable for children who are climbing for the first time. My daughter made a valiant attempt, but after the high ropes course, she soon found it high enough.
The bungy trampoline
Her interest was more in the bungy trampoline where she faced the next challenge: somersaulting. Because of the two rubber bands, the jumps are so high that making a somersault seems to be a piece of cake. This turned out to be less easy than it looked, but in the end she managed to do a somersault.
The funballz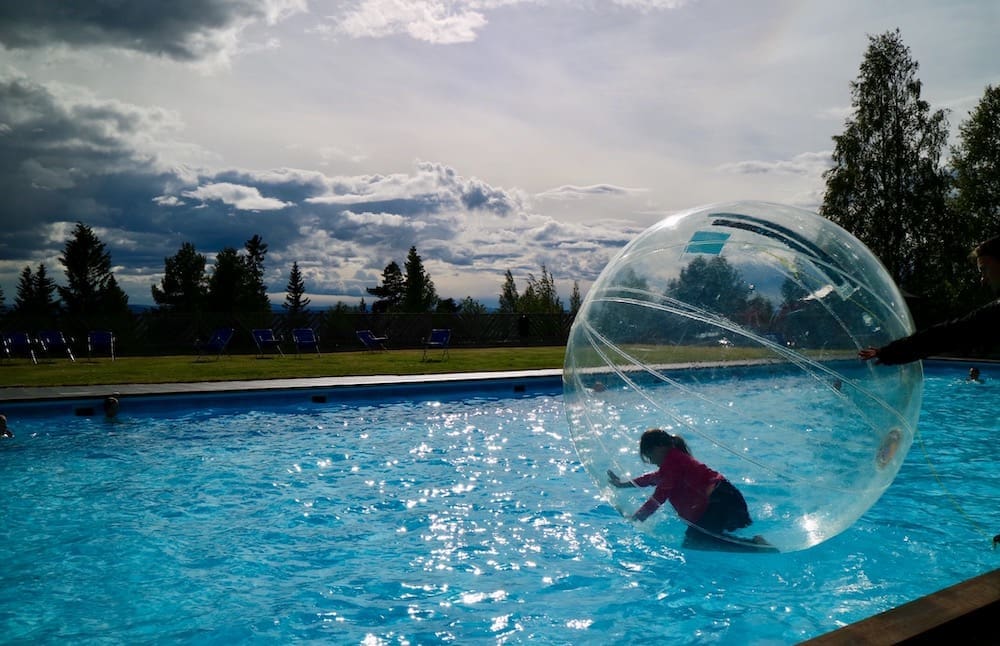 My daughter had the most fun with the funballz. A large ball filled with air that you can use to walk on the water without getting wet. Well… walk? My daughter loved it and in the meantime I enjoyed a beautiful view of the Idre Fjäll area with laughter in the background.
You see, there is plenty to do in Sweden in the summer! We've kind of fallen in love with this country and we can't wait to go back to experience more of these cool activities!