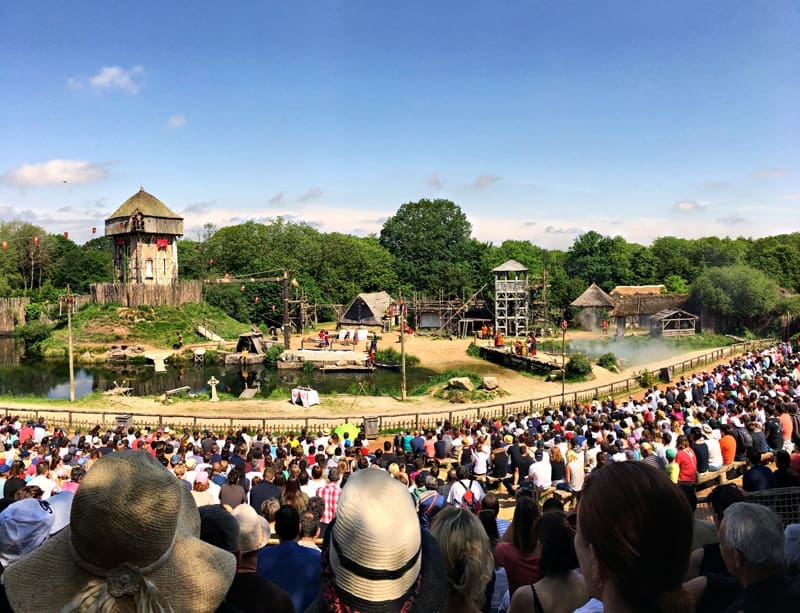 In France you'll find a park full of shows. The park is called Puy du Fou. I experienced the park and I could describe it in one word: spectacular! But since there is much more to tell about it, I will share all my experiences in this review about Puy du Fou.
What is Puy du Fou?
Puy du Fou is not an amusement park with roller coasters. But it is still a great adventure to be in Puy du Fou. The term 'adventure park' is probably the most appropriate for this park. Puy du Fou is an experience with lots of spectacular sensations. No less than 19 performances (averaging 30 minutes) in the park and one evening spectacle (of 1 hour and 40 minutes) just outside the park, make your showtime heart beat faster. All shows are about the history of France and has a link to the Vendee region. The region where the park is located. Whenever you think it can't be crazier, it becomes even more special, even more spectacular. It's difficult to describe, that's why I think you should experience Puy du Fou yourself.
Where is Puy du Fou?
As I said, Puy du Fou is located in the Vendee region. Vendee is a region in the west of central France. It is just under a 9 hour drive from Amsterdam. The nearest airport is Nantes. A flight from Schiphol Amsterdam takes about an hour and a half.
Because I visited the park for one weekend, I went by plane. At the airport of Nantes I picked up a rental car. From the airport of Nantes and with that it is another hour's drive to Puy du Fou.
After an hour of driving I arrive at Puy du Fou. I spend the night in one of the Puy du Fou hotels: La Citadelle. I can park my car next to the town wall. As soon as I walk through the town gate to check in, I immediately end up in the Middle Ages. Everything is in style, even the toilet reminds me of centuries ago. Luckily I can flush the toilet normally.
La Citadelle is one of the five official hotels of Puy du Fou. Besides this castle, Puy du Fou also has an inn from the 18th century. A tent camp from the Renaissance. You can spend the night in a hut on poles, which comes from the early Middle Ages. Or you can spend the night in Roman style. All five of these official Puy du Fou hotels are within walking distance of the special hotel entrance to the park.
Puy du Fou: spectaculaire shows!
In Puy du Fou you will find mostly shows. Many of these can be called spectacular shows. Because the setting, the stunts, well, actually the whole experience is one big spectacle. I visited 13 attractions in two full days. That's a lot of shows and I can't recommend this program when you visit the park with children. The advantage is that I can now share my experiences about most of the different shows.
Show: 'Le mystère de la Pérouse'
This attraction / show is new in 2018 and is slightly different from the other shows in Puy du Fou. When entering a ship from the year 1785, I think we're in a line for the next show. But it soon becomes clear to me that we are on board of the ship. And that is the start of the show. In this show you are on a voyage of discovery over unknown seas. A few actors who are completely in their role play so convincingly that the story soon becomes clear. Even though it is spoken in French and there is no translation possible at this attraction. The ship takes us on wild seas. The moving scenery and the sound effects really disorient you. So much for disorienting you, you'd almost get seasick from it. The attraction 'Le mystère de la Pérouse' is certainly not a show where you sit still and watch. This is what they mean by an 'show experience'.
Birdshow: Le Bal des Oiseaux Fantômes
We are looking for a place on a large grandstand, this is where we are going to experience Le Bal des Oiseaux Fantômes. This is a show, or rather a spectacle with birds. I've seen a bird show before, also in France at an old castle. Where a falconer let his owl and falcon fly back and forth and the audience said 'oooooh'. You can perhaps imagine that I did not have too high expectations at 'the bird show'. Also in Le Bal des Oiseaux Fantômes a story was told. This could be followed by a translation, but I had to get used to listening via a crackling box. Fortunately I later discovered the app by Puy du Fou, which made the translation sound a lot better. Anyway, I don't think the story stole the show either. No, that honour really goes to the more than 200 birds such as falcons, owls and vultures, which fly right above your head. And when you think you've seen all the birds after half an hour, the final comes. Where all the birds, including pelicans, storks and marabous, cover the sky.
Theatre show: Mousquetaire de Richelieu
We go from one adventure to another. A completely different adventure, though. Because while I'm still recovering from all the flying birds' violence, we're going to experience a performance in a monumental 17th century theatre. Mousquetaire de Richelieu, also the Musketeers. Fine, let's have a quiet look at a performance, thats what I think. But after having already had two shows, I should have known better. Mousquetaire de Richelieu, is full of action. Logical, because you know, the Musketeers. Different fencing duels, equestrian arts and an unexpected setting make this show a true spectacle as well.
Small show: Le Secret de la Lance
We are now going to watch a small show, according to our personal guide. Le Secret de la Lance tells the story of Marguerite, a young woman who is left alone in a castle, while the knights leave for Orléans. She has only one task: to unravel the secret of a lance with magical properties in order to protect the enchanted walls of the castle.
It will rest on your shoulders…
Of course, I'm not gonna tell you if she's gonna be able to do it. I can tell you that this performance is far from small. Okay, the decor might start small, but now I'm starting to discover that at Puy du Fou, nothing is what it seems.
Water show: Les Orgues de Feu
In the evening, 'Les Orgues de Feu' is on the programme. A show on the water, with real people coming out of the water, says our guide. You can imagine a very surprised look around my face. People out of the water, how? But I can't unlock the secrets of Puy du Fou with our guide. You'll see it tonight', is what I have to do with. The weather gods make us feel the ultimate experience of a water show by letting the water crash on us during the show. But it won't spoil the fun, because my attention is focused on what happens on the water. It is now dark and soon it becomes clear to me why this show has to be seen in the dark. Costumes whit lights that sway fabulously over the water, with real people in them! It is a spectacular sight. When a grand piano with a man comes out of the water, I'm totally amazed! How do they do that?
The fountains and the water organ complete the performance, making 'Les Orgues de Feu' a great way to end the day in Puy du Fou.
A walk through a trench: Les Amoureux de Verdun
After a night's sleep in our luxurious room in the hotel La Citadelle, we have another day in Puy du Fou.
The first show on our program today is a fierce one. A love story is told by means of the love letters of a soldier. A story that you see, feel and experience when you walk through a trench in the winter of 1916. It is the evening before Christmas and the war is in full swing. The shooting, the soldiers, the explosions and their consequences in the dark trench may be a little too intense for small children. The actors take their roles very seriously. It's highly recommended! And for the children there are several exits during the trip through Les Amoureux de Verdun, if it gets too scary.
Great show: Les Vikings
After this depressing (the story doesn't end well) beginning of the day, I'm ready for something light-hearted. Savage, wild and rough Vikings, yes that makes me happy. With about 3000 more people we go to one of the main performances of Puy du Fou, Les Vikings. The sun is shining, the scenery is fantastic again and we are going to watch Vikings. Moreover, I have now installed the app for the better translation.
The story starts quit peacefully in Fort de l'An Mil. The people are cheerful and the and the decor looks great. A couple gets married. Some boys are knighted. And suddenly the rough Vikings from the north are there. Then another spectacle starts with fire, stunts, complete ships that float upstairs and there are horses. The violence is really coming at you and I don't know where to look. This is one of those shows where you can go three times and see something different every time.
After this show lunch is on the program. Which is great, because I really need to recover from this.
Spinning show: Le Dernier Panache
After lunch we get to see something complete different. Not a single performance in Puy du Fou falls under the heading of standard theatre show and also this one does not. Le Dernier Panache is a show inside with a audience revolving around the stage. Through different scenes we get to see a piece of history from the Vendee again. This time it's the French Revolution with a French naval officer in the leading role. Whether children can actually follow this story, I wonder. In any case, it is spectacular to see.
In a Colosseum: Le Signe du Triomphe
And then there's really the greatest spectacle. Whether it's because of the gigantic Colosseum, or because we make our debut as actresses, I don't know. But Le Signe du Triomphe is grand, it's wild and most of all, it's spectacular.
So we play in this show, but we're not the only one chosen. About 40 people are picked from the audience and asked to participate in the show. Playing along is not difficult. You are brought behind the scenes for a short explanation and of course a costume party.
There are two groups. The Romans and the Gauls. I belong to the Gauls and to get directly into the role, we yell at the Romans loudly BOE when they past (still behind the scenes). It's a bit uncomfortable, but our leader clearly has more experience and helps us well on our way. Before I know it I'm in in the Colosseum, yelling at the Romans with about twenty other players. And that while the 'normal' audience still comes in and goes looking for a place.
Because I play along with this story, I can't turn on the translation and I just have to imitate what my Gallic leader does. But because I play along with that story, I can't turn on the translation and I just have to imitate what my Gallic leader does. It soon becomes clear to me that love is back in the game. A kind of Romeo and Juliet, but with a Roman guy and a Gallic girl. Why other Gallic prisoners are involved is not clear to me. Anyway, they have to win the circus games in front of the Roman governor, according to the description. What I see, shouted in between my BOE, is an unequal fight between the Romans and the Gallic prisoners. A horse race which is directed very well with of course a lot of stunts.
And as if it wasn't crazy enough, a tiger, a lion and three lionesses enter the arena. Of course we end up with a 'they live happily ever after' and my voice sounds like a false crow. But what a pleasure we had and that combined with another spectacular show. Le Signe du Triomphe is one of my favourites of Puy du Fou.
The evening show: La Cinescenie
When you think you've had it all and you can't be more spectacular. Then you haven't seen La Cinescenie yet. The evening performance of Puy du Fou, for which you have to buy separate tickets, is world famous. Twice a week 14,000 people come to watch this 'mindblowing' show of almost two hours with an open mouth. The stage covers an area of 23 hectares. The number of actors playing along is 2,400, not counting horses, cows, sheep, and so on. Fireworks, 3D video projections, overwhelming decors and lots of special effects.
Can you imagine it? I really had no idea before we went to see the evening show La Cinescenie. And once in the grandstand, watching the gigantic view, all I could do was ask myself, "How? During the performance, everything becomes clear to me. La Cinescenie is a performance that cannot be explained, but you really have to experience it yourself. Because something so great and overwhelming is really hard to describe.
Puy du Fou, the tips and info
Tickets: Actually, I would advise you to book an overnight stay in one of the hotels at Puy du Fou. Simply because this way you can quietly discover the park. And what one day doesn't succeed, the next day maybe succeeds. In Puy du Fou you can have a great time for two days. When booking an overnight stay, make sure you also book your entrance tickets. These are not standard for a hotel stay.
Puy du Fou app: When visiting Puy du Fou, put the Puy du Fou app on your phone! With this app, you'll be up to date at all times. When does the next show start? You can see on the map where you are in the park and that is very handy, because the park does not promote your sense of direction. And the translation via the app is also much easier to understand than through the crackling translation box.
Travelling whit a dog: When we go on holiday, we always take the dog with us. However, dogs are not allowed in the Puy du Fou park. This is because of the wild animals in the park. Assistance and guide dogs are welcome, but you have to mention this in advance. However, taking a dog with you does not have to stand in the way of your visit to Puy du Fou. Puy du Fou has a dog boarding house where your dog is taken care of all day (for a fee). Here, too, it is advisable to make a reservation in advance.
Behind the scenes at the falconers: It is possible to get a tour behind the scenes with the falconers. Here you can see the daily care of the more than 530 birds in the Puy du Fou. Including the experience of a very high cuteness of the newborn birds. This tour takes about 90 minutes.
The opening hours of Puy du Fou: The opening hours of the park can be different every day. For this purpose, Puy du Fou has made a calendar that clearly shows which day and which opening hours it has. On Friday and Saturday there is also the show Cinéscénie. Check out the Puy du Fou calendar. Or download the app, where you can immediately see whether the park is open or closed.
Eating and Drinking in Puy du Fou: The food and drink in Puy du Fou is totally the French way. Tasty and extensive. There are several restaurants in the park. There are also a number of fast food restaurants, although these are pretty concealed. My recommendations for good food and drink are:
L'Echansonnerie
Les Deux Couronnes
La Mijoterie du Roy Henry
L'Ecuyer Tranchant
Le Bistrot
Dressed up to Puy du Fou: A good tip to know is that for artistic reasons it is expressly forbidden to come to Puy du Fou in costume. So no bachelorette parties!
Tip: Put on closed shoes! All paths are covered with fine gravel. And when it rains, put on old closed shoes, which will damage your shoes.
Address Puy du Fou and map: Puy de Fou is easy to reach by car. You can even park for free at all the parking lots of the Puy du Fou.

The address of Puy du Fou is:
85590 Les Epesses
France