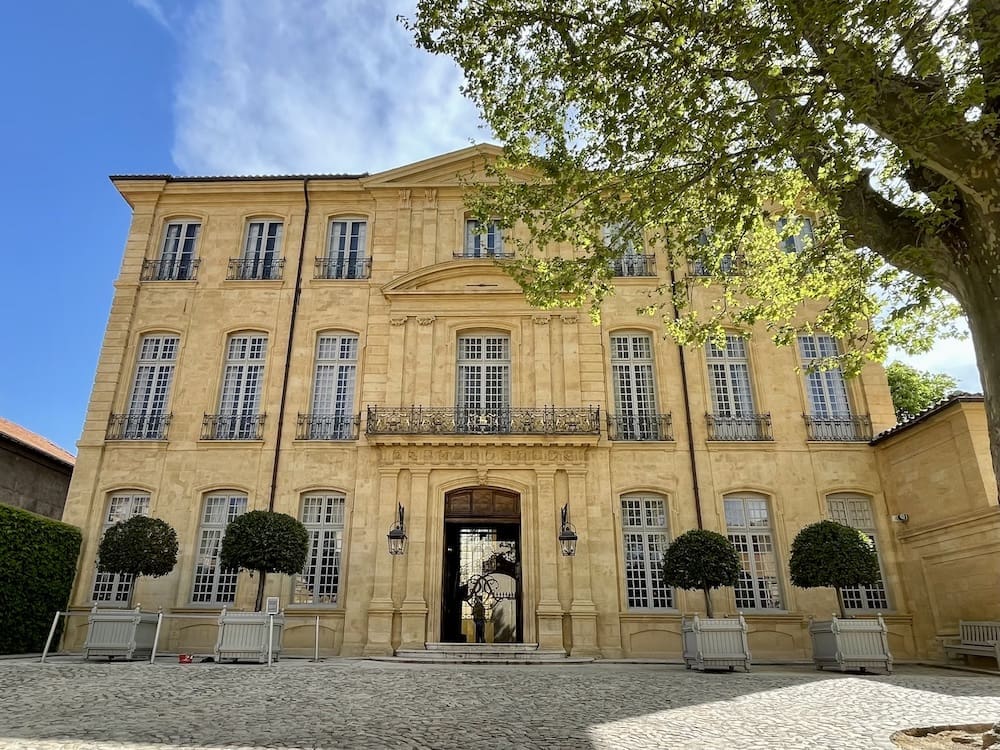 If you think that visiting a city with children is not a good idea, you are wrong! After all, it's just how you sell such a city trip to your kids. Because the better you sell it, the more fun and exciting it is to unpack it. For example, we completely focused our visit to Paris with the kids on the Miraculous spots. That turned out to be a hit. But then again, not every city has a children's series that the kids love and so for some cities you'll have to get a little more creative. For example, I recently visited Aix-en-Provence, a delightful city in the south of France.
Of course, this French city is not as famous as Paris, but the city is found in a world-famous area: Provence. Aix-en-Provence turns out to be a great city for a day trip from your campsite. But if you really want to discover what Aix-en-Provence has to offer for you and your kids, then you can definitely add a night to your stay. Because there are plenty of things to do with kids in Aix-en-Provence.
Aix-en-Provence sights
Before you drag your kids to a city in the south of France, you want to know what the sights are. Before you drag your kids to a city in the south of France, of course you want to know what the sights are. One thing I know for sure, the sights for kids in Aix-en-Provence have to do with the artist Paul Cézanne or it's a fountain.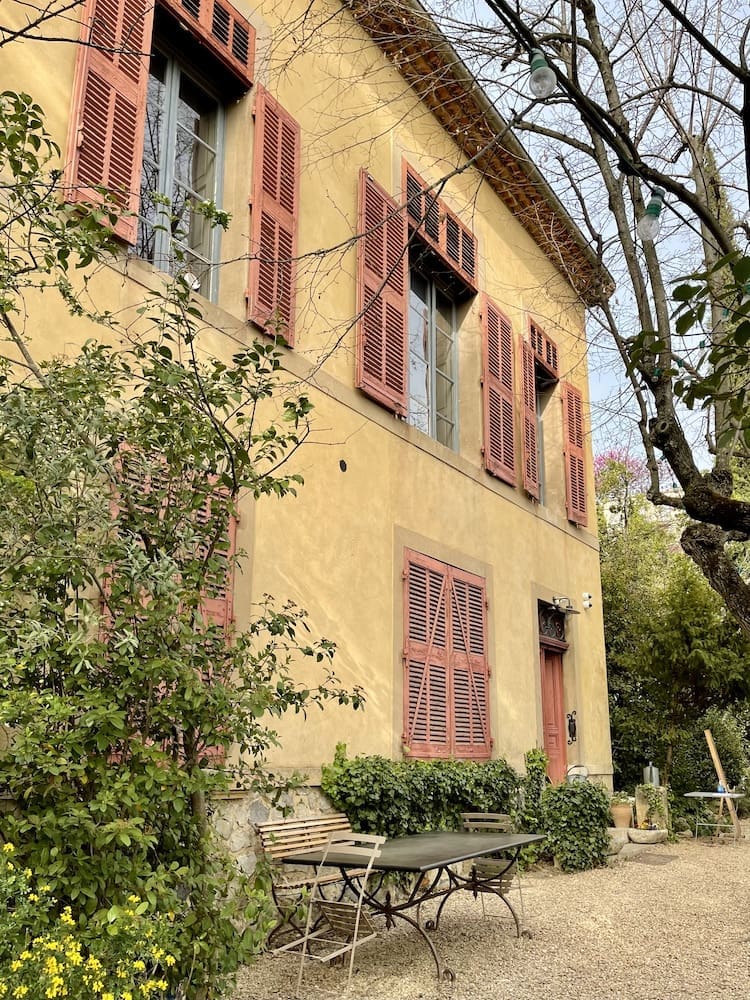 Cezanne's studio
First of all, a visit to Paul Cézanne's studio is a must in Aix-en-Provence! Not only is this charming building super atmospheric, it's also a great way to get acquainted with Paul Cézanne. I can imagine that not every child knows who Paul Cézanne is. And to be very honest, not only many children, but also I have to google the work of Paul Cézanne. And when I read that Paul Cézanne is the founder of modern art, I realize that I could have paid more attention at school. But then again, you're never too old to learn are you?
It also turns out that the painting "The Card Players" by Paul Cézanne, is the most expensive (over $250 million) painting ever sold. That's a fun fact to tell the kids.
A visit to Paul Cézanne's studio is not a daylong program. With an audio explanation, you only visit one room.
Hôtel de Caumont
According to the residents of Aix-en-Provence (whom we spoke to), Hôtel de Caumont is an absolute must and you can't avoid visiting this old mansion with changing art exhibitions. The 14-minute or so film that plays there, about the life of Paul Cezanne, is also a great way to start your visit to Aix-en-Provence with children. Because if one thing has become clear, it is that this is the city of Paul Cezanne, and the 'Aix-ers' are only too proud of that!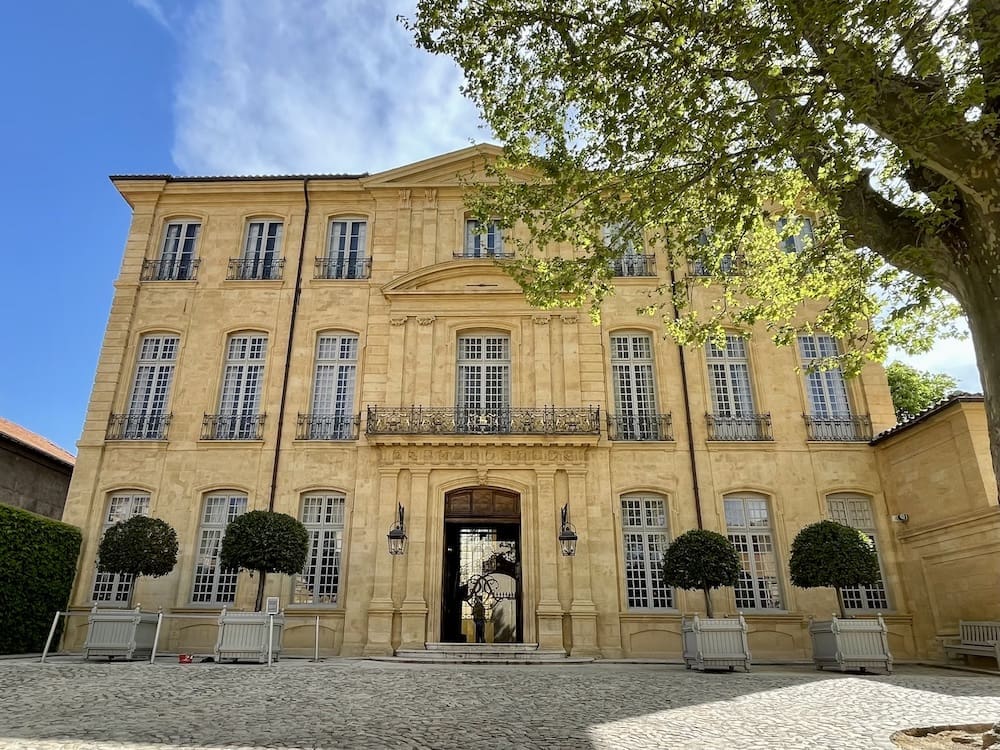 In addition, the interior of Hôtel de Caumont is truly a picture to behold. The sweetness splashes from it. If your children have a vivid imagination, they will imagine themselves as a prince and princess through the rooms and garden of Hôtel de Caumont. This is fun to do with kids in Aix-en-Provence.
Fountain Hunting
As I said, Aix-en-Provence is the city of Paul Cézanne, but also the city of fountains. When I ask exactly how many fountains can be found in Aix-en-Provence, I have to make do with the answer "1000". That is of course an exaggeration, but that there is a fountain on every corner is certainly true. With kids you can turn it into a fountain hunt.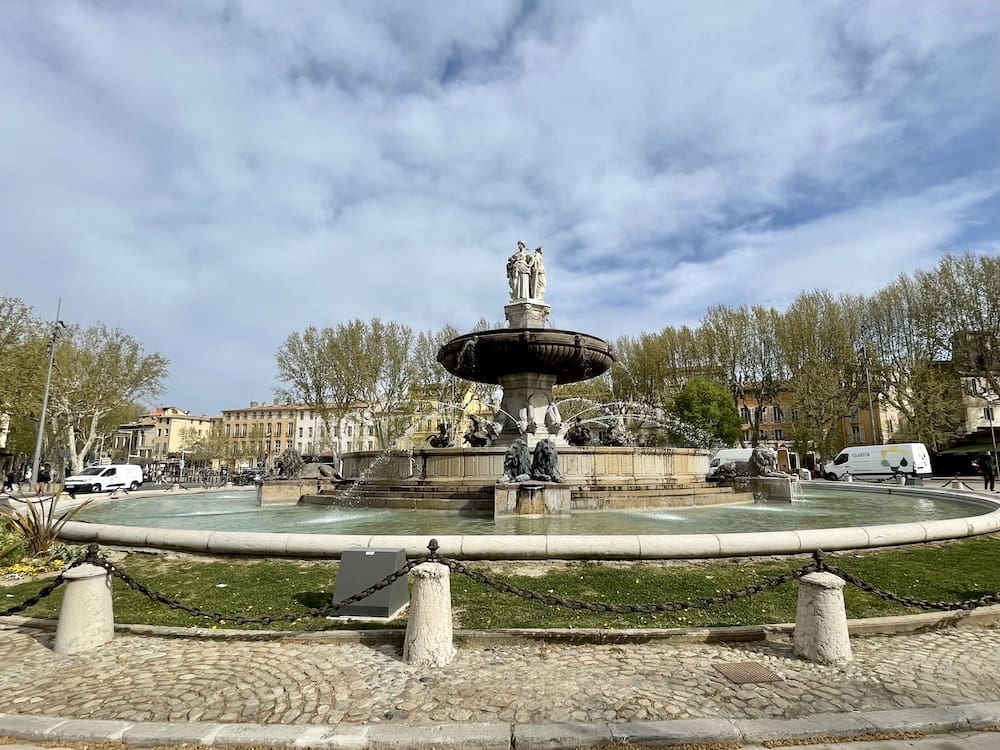 Fontaine de la Rotonde
The most notable fountain is Fontaine de la Rotonde. This fountain, built in 1860, can be found in the center on the border of the old part of the city and the new. On the fountain you will see three female statues. All three are looking in different directions and represent justice, agriculture and the fine arts. Around this spectacular fountain it is a bit busy with traffic, so be careful with the kids!
Fontaine Moussue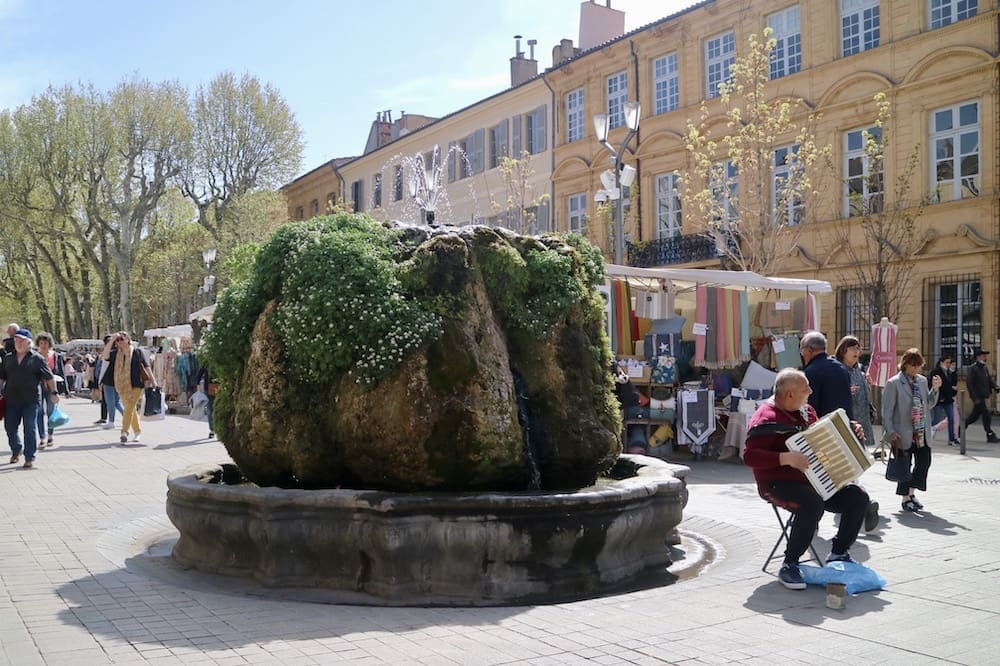 In the important street 'Cours Mirabeau' you will also find some of Aix-en-Provence's special fountains. Fontaine des Neuf-Canons and Fontaine Moussue look a bit alike because they are both covered with greenery. Fontaine Moussue turns out to have a special story. The temperature of the thermal water is 18 degrees all year round. Not surprisingly, women in the Middle Ages came to wash their laundry in this fountain. Fortunately, we now have washing machines.
Place d'Albertas and its fountain
Personally, I'm not very impressed with this square, but for Aix-en-Provence, Place d'Albertas is a real landmark and even a national monument. Of course with fountain in the middle of the square! The 18th century square and the buildings around it have a Parisian atmosphere. The fountain that stands there was installed later, in 1912.
Place des Quatre-Dauphins
Which also absolutely should not be missed during the fountain hunt in Aix-en-Provence, is the fountain "des 4 dauphins" built in 1667. Kids will love this fountain. Surrounded by beautiful mansions is a fountain where some water spouts from the basins of dolphins. I must honestly confess that I don't immediately recognize dolphins in it, but the nameplate of the square quickly makes it clear that they are actually dolphins.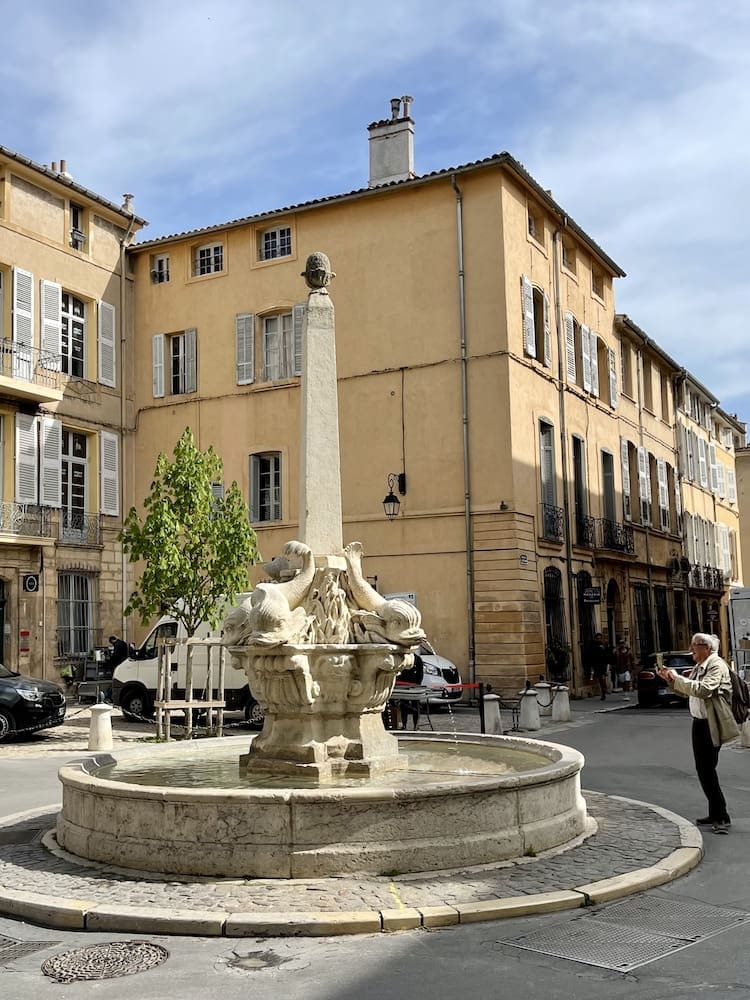 These are the fountains that are not to be missed in Aix-en-Provence, but of course there are many more! A fountain hunt is super fun to do with kids in Aix-en-Provence. How to do it? Make a list of the fountains that can be found in the city. Get a map from the tourist center in Aix-en-Provence and let the kids search for the fountains.
Cool (kids) stores
Just behind Cours Mirabeau you will find the old center of Aix-en-Provence. In this neighborhood you can stroll along the charming boutiques and nice (children's) stores. Here you will find stores of French children's brands such as Petit Bateau, Catimini and IKKS.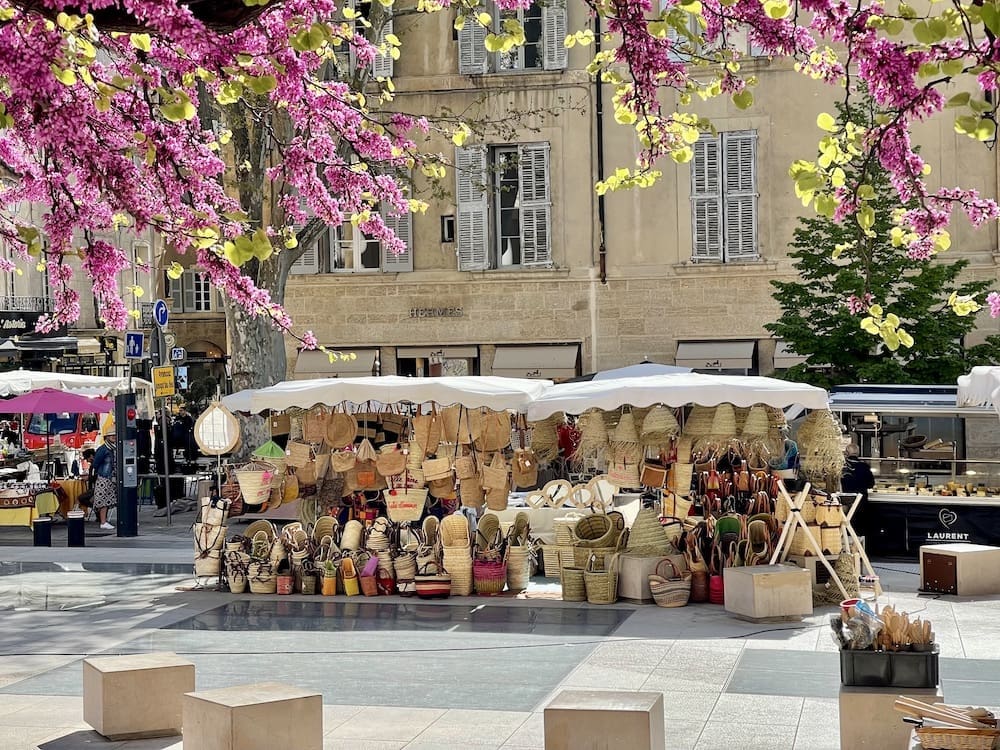 Strolling through the market
And while we are strolling, in this neighborhood you will also find the daily market with flowers and food. My kids always love the market. This daily market is not the only market in Aix-en-Provence. Three times a week (Tuesday, Thursday and Saturday) there is a market on the Cours Mirabeau and also a brocante and Provençal market on the Place Verdun.
Cycling in Aix-en-Provence
In the center of Aix-en-Provence, you and your family can get around just fine on foot. If you want to discover the city outside the center, a tourist train runs and there are plenty of (electric) buses around. Cycling through Aix-en-Provence is also an option. But when you rent a bike, you can also discover the surroundings of Aix-en-Provence. After we cycled in South Tyrol with the kids on electric bikes, we know that this is a very fun activity with kids. So I would definitely recommend (when the kids are big enough) to rent (electric) bikes! Within no time you are out of the city and cycling through the beautiful Provence.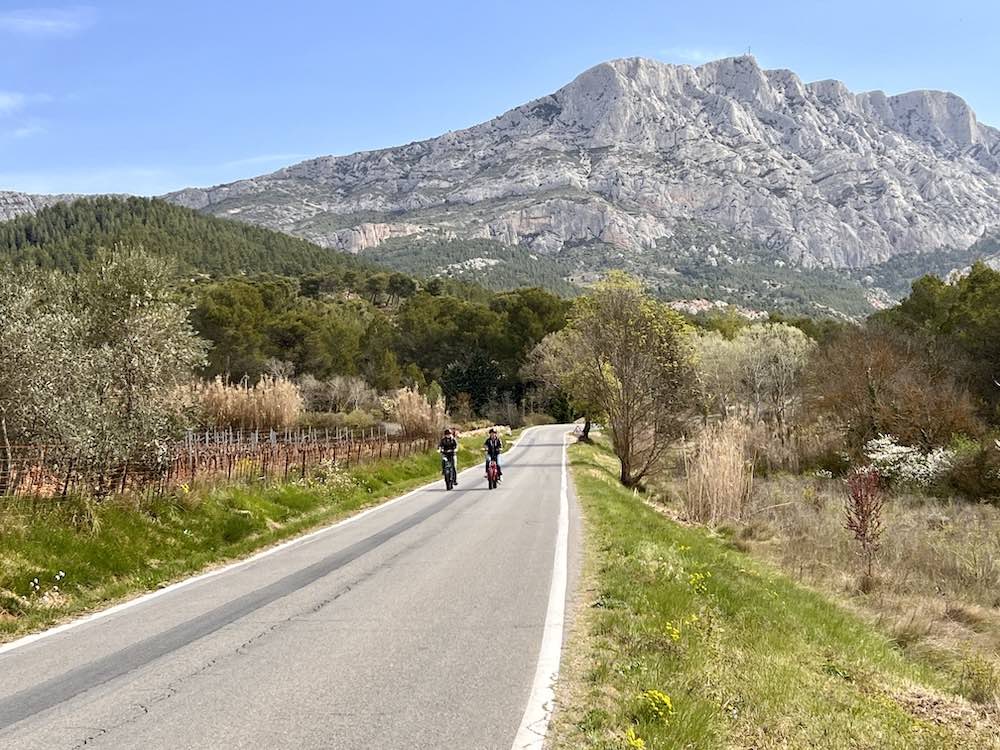 In the sidecar!
Don't feel like biking? Then you really should check out this sidecar tour. Isn't that a cool way to discover Provence?